Well, I'm back on the TTC train.
Again.
I had my post-op appointment went Dr. M on Monday. It was, indeed, a giant polyp. She said it was about as wide & long as the first two knuckles of her index finger. So, approximately 2" long and 1/2" wide. It actually seems crazy to me there was something that big in there. It's gone now, so that's good.
A picture, for your viewing pleasure.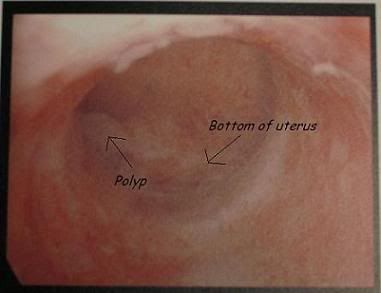 She said they're normally pink, but mine was white. She doesn't know why. It was large & odd enough that she thought it was possible leftover tissue from my last pregnancy, but the tests disagreed. Just a giant polyp.
I thought momentarily that she was going to make us wait another while to try again. She said we should wait a bit, but knew we wanted to get back to it. I said it had been 3 months since my miscarriage & she glanced at my chart and said "Oh, then we're okay."
I left with three scripts. Metformin ER, (Oh my god, it's so much better than regular Metformin that I seriously can't even believe it's the same drug. My GI tract is SO thankful.) Clomid & a Z-pack. The antibiotic is just precautionary. She had previously explained that some women carry a bit of infection in their uterus and aren't aware of it, so we'd do a round just to be certain that wasn't an issue.
I started spotting on Wednesday night, full fledged period on Thursday. That was sort of a relief, because my last two periods, I spotted for a good 3 days before my period, which isn't normal for me. I was glad to see something in the neighborhood of normal again.
I'm now set up for a follie scan for CD12. I assume I'll be ready to go that day, will trigger that night & IUI on Wednesday the 14th.
I'm nervous. I've had 5 rounds of Clomid now. My progesterone has been very good every time, but the last one was a lot lower.
Clomid Cycle 1- Progesterone: 27
Cycle 2- Progesterone: 34 (1st pregnancy)
Cycle 3- Progesterone: 25
Cycle 4- Progesterone: 24
Cycle 5- Progesterone: 15 (2nd pregnancy)
I realize that 15 is a good number. But to see it drop so much worried me even before I found out I was pregnant. Plus it was tested twice during my pregnancy and never went up. It was 15 both times. I just worry that my body isn't doing what it's supposed to.
So, I'm interested to see what happens this month. If it'll be higher like the first 4 cycles, or even lower.
I've decided I don't even care if I get pregnant this cycle because I'm so concerned about the progesterone stuff that I want to see what happens. My doctor is in the camp that believes that low progesterone levels are a symptom of a bad pregnancy, not a cause. Personally, I'd rather err on the side of caution & be supplemented.
I would appreciate anyone's insight on this. Particularly those of you who may have had a progesterone issue & then a successful pregnancy.
I actually feel pretty good about cycling again. Of course, the thought of actually being pregnant again makes me feel like vomiting. That's funny, considering I don't tend to do that when I actually AM pregnant. Morning sickness- no. Nervous condition- absolutely.
I did very well last pregnancy. I wasn't eaten up with worry the way I was the 1st time. Not that either thing lead to any different outcome. But I was a bit more relaxed last time. I can already tell this time I'll be sick with worry again.
I'm praying a lot for God to take it from me. I'm working to really surrender it to Him. But it still comes and goes. And the more realistically I think about actually being pregnant again, the more it comes.
But, what can I do? Keep moving forward. Focus on the task at hand. This is the time that I most relate to Martha Stewart's daughter. When she said on Oprah that she was doing THIS right now - that she was treating it like a job - that's how I feel. Right now, I focus on getting pregnant. When that happens, I'll focus on staying that way.
For now, this is enough.
--Trish