It's Saturday night. CD9, if you're keeping track. Not much to report.
My left ovary hurts a good deal. If I feel a sneeze coming on I cringe because I know it's not going to feel good. But at least it's a sign that something is happening, so it's okay. Funny how pain is somehow comforting, huh?
Since my last post was mostly a bunch of bitching about people, I thought I'd balance it out a bit.
I'll speak more about the people who have supported me more later. But I wanted to share some of the amazing gifts I have received. Not just the gift of friendship, I mean ACTUAL gifts. I'm blessed to have talented and giving friends.
I wanted to share some pictures of the amazing (and crazy) things I have received.
All of these come from friends I have met on the web. To anyone who doubts that real friendships and relationships are formed without meeting someone face to face, I offer you the following:
Jodi, from Maine, cross stitches. She was lucky enough to conceive on their first month trying and has been offering me some working sperm ever since.
A few weeks ago I came home and found this card in my mail box. She stitched the cover herself: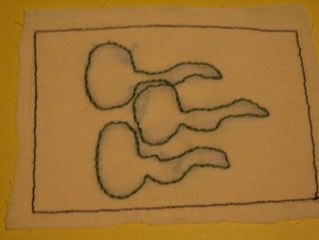 Just a few days ago, a friend name Michelle who makes jewelry, sent me this fertility necklace. It's beautiful. The picture truly doesn't do it justice. The charm is so gorgeous that I started to weep as soon as I saw it.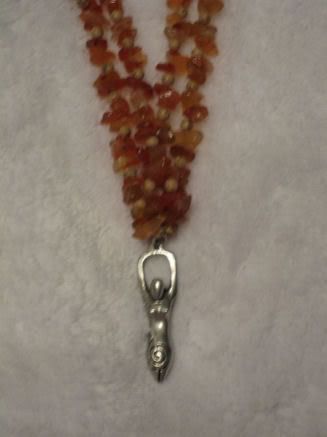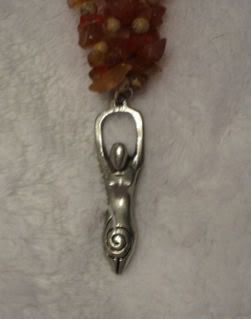 And last, but certainly not least, is by far the funniest gift I've ever received. This is from my friend Alyse. We met online when we were both planning our weddings and have remained friends since.
Alyse has no desire for children at all. And frequently offers to send me her uterus as she has no need for it.
She recently learned to knit.
One day I got a package in the mail from her. It was sort of soft and I thought "oh.. perhaps she made me a scarf!"
Then I opened it. I laughed so hard I cried. I also got pregnant the next month. I think I'll take it with me to my next IUI and see what my doctor says.
Yes, everyone. It IS a knitted uterus. Complete with ovaries and fallopian tubes.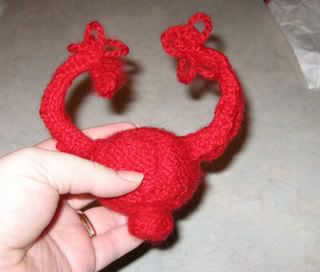 I have also received numerous cards and even a small cow trinket (inside joke) after my miscarriage, but I'm devoting this space to handmade gifts. Thanks, girls. Love you!
---Trish