A big thank you to my fabulous husband for getting the fully fat-laden cream cheese in spite of the fact that he can't eat any.
Please note the slightly pomegranite colored icing.
I know, you're saying "um, Trish, that's sort of coral colored." To you, I say "Fuck you." I have been a slacker barren bitch and havent gone to get the proper thread so I didn't have it handy for a color comparison. And too much food coloring tastes funny. It's in the color family. Deal with it.
It's obviously not to scale. However, please note the accuracy in the double headed & double tailed sperm. Just like my husband makes.
Oh. And I also apologize for the darkness of the photos. My less-than-year-old camera suddenly will not take pictures with the flash on. If I try, it flashes at me to check the battery. (Which is fine & fully charged.) I'll send it in to be replaced one of these days.
Apologies over. Here's my take on an infertility cake.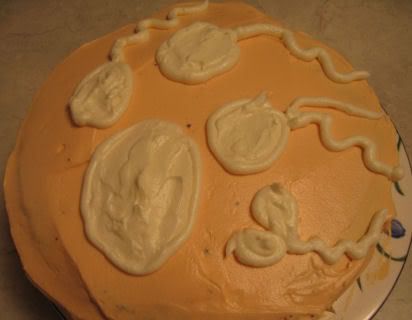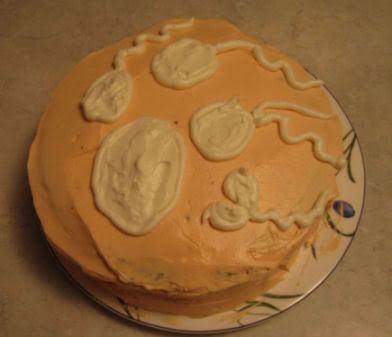 *added shortly after submitting the previous entry*
You know. Going back and looking at the pomegranate thread, it looks far more burgundy than orangy which is how I remembered it in my brain. So then I went to look at an actual pomegranate (which I've never eaten) and realize that indeed, closer to burgundy. Color me stupid. But burgundy would have required mucho red food coloring, so even if I had realized that, I wouldn't have made it that dark. Cause red food coloring tastes like ass. So. Um. Just pretend. Thanks.